Donald Trump's Seriously Bad Idea: A 5% Tax Or Tariff On All Imports
An idea is apparently floating around within the Trump transition team that the way to deal with America's economic woes is
to impose a 5% import tax or tariff upon everything that Americans buy from foreigners. To put it mildly this is not a good idea. For two rather important reasons. The first being that it's not obvious that this would not be legal. The United States has a number of trade treaties in place and many of them will state that no such universal tariff will be possible. The second is that the idea itself is just not a good one. Why do we want to tax Americans more for the things they wish to purchase?
The administration of Donald Trump may be getting ready to crack down on goods coming into the US.
According to a report by John King at CNN, the Trump transition team has been floating the idea of an executive order that would impose a 5% tariff on all imported goods soon after Trump takes office.

President-elect Donald Trump is considering an early executive action to impose tariffs on foreign imports.
Much to the consternation of one of the Republican Party's staunchest bases — the business community — the Trump transition team reportedly wants to spur American manufacturing by making good from other countries more expensive, according to CNN.
It's not the business groups that should be concerned. It's anyone claiming to speak for the consumer who should be. For that's who trade benefits,
consumers
:
Rep. Debbie Dingell (D-Mich.) says President-elect Donald Trump's discussion of imposing a tariff on imports through executive action means he understands the "anxiety" of working men and women in this country.
"The first thing I thought when I heard it is Donald Trump understands the working men and women of my state," she said Thursday on CNN's "New Day."
Why would you want to make Chinese sprocket sets 5% more expensive for your people? The full report is
here
:
The Trump transition team is floating the possibility of an early executive action to impose tariffs on foreign imports, according to multiple sources.
The tariff is pegged as being a general one and set at a level of 5%.
Our first problem is that is just isn't at all obvious that this would be legal. It might well be that the President can set tariffs if he wishes--that's not what I mean. Rather, that there are a number of other treaties already signed which will have something to say about this, Nafta for example--and even the WTO. The WTO would be a particular bugbear. Because it says that you must treat all countries equally (MFN status) and also that there are caps on the tariffs that can be charged. It's that second which would be the problem--it's not obvious that some of those caps aren't below the 5% rate.
And to change the WTO rules you've got to get the agreement of every other WTO member. Yes, it's an organisation where every single country has a veto. Further, if you breach the WTO rules then you yourself lose WTO status. And with it you lose MFN status. Which means that the US would then face absolutely whatever tariffs anyone else wanted to place upon anything.
So there are procedural problems. However, the much bigger problem is that it's simply not a good idea.
The reason we do trade is to gain access to imports. Those foreigners turn out to be better than we are at making some things. Maybe they can make them cheaper, better, faster, whatever, than we can. The only reason we bother to do exports is so that we can gain the foreign money to buy the imports we want. All of which is why that it is simply ridiculous to be trying to charge import tariffs.
Here is the US consumer looking to buy something they desire. And we've government standing in the way stating that it must be 5% more expensive? Because, erm, well, because?
Tariffs are not a good idea, general tariffs are not a good idea and the US should not impose a 5% tariff upon imports.
-------------------------------
------------------------------
Trump team floats a 10% tariff on imports
Washington (CNN)President-elect Donald Trump's transition team is discussing a proposal to impose tariffs as high as 10% on imports, according to multiple sources.
A senior Trump transition official said Thursday the team is mulling up to a 10% tariff aimed at spurring US manufacturing, which could be implemented via executive action or as part of a sweeping tax reform package they would push through Congress.
Incoming White House Chief of Staff Reince Priebus floated a 5% tariff on imports in meetings with key Washington players last week, according to two sources who represent business interests in Washington. But the senior transition official who spoke to CNN Thursday on the condition of anonymity said the higher figure is now in play.
Such a move would deliver on Trump's "America First" campaign theme, but risks drawing the US into a trade war with other countries and driving up the cost of consumer goods in the US. And it's causing alarm among business interests and the pro-trade Republican establishment.
The senior transition official said the transition team is beginning to find "common ground" with House Speaker Paul Ryan and Ways and Means Committee Chairman Kevin Brady, pointing in particular to the border adjustment tax measure included in House Republicans' "Better Way" tax reform proposal, which would disincentivize imports through tax policy.
Aides to Ryan and Brady declined to say they had "common ground" with Trump, but acknowledged they are in deep discussions with transition staffers on the issue.
Curbing free trade was a central element of Trump's campaign. He promised to rip up the North American Free Trade Agreement with Mexico and Canada. He also vowed to take a tougher line against other international trading partners, almost always speaking harshly of China but often including traditional US allies such as Japan in his complaint that American workers get the short end of the stick under current trade practices.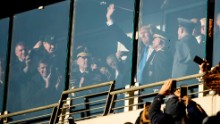 Photos: In transition: President-elect Trump
President-elect Donald Trump speaks at Trump Tower in New York on Wednesday, January 11. In
his first news conference since winning the election,
a combative Trump made clear he will not mute his style when he is inaugurated on January 20. He lashed out at media and political foes alike.
Gulf with GOP establishment
It is an area where there is a huge gulf between Trump's stated positions and traditional GOP orthodoxy. Business groups and GOP establishment figures -- including Ryan and Senate Majority Leader Mitch McConnell -- have been hoping the transition from the campaign to governing would bring a different approach.
Ryan did signal in a CNBC interview earlier this month that Trump's goals of spurring US manufacturing could be accomplished through "comprehensive tax reform."
"I'll tell him what I've been saying all along, which is we can get at what he's trying to get at better through comprehensive tax reform," Ryan said.
The pro-business GOP establishment says the new Trump administration could make clear it would withdraw from NAFTA unless Canada and Mexico entered new talks to modernize the agreement to reflect today's economy. That would allow Trump to say he kept a promise to make the agreement fairer to American workers without starting a trade war and exacerbating tensions with America's neighbors and vital economic partners.
But there remain establishment jitters that Trump, who views his tough trade message as critical to his election victory, will look for ways to make an early statement that he is serious about reshaping the trade playing field.
And when Priebus told key Washington players that the transition is mulling a 5% tariff on imports, the reaction was one of fierce opposition, according to two sources who represent business interests in Washington and spoke on condition of anonymity because the conversations with the Trump team were confidential.
McCain reacts to Trump telling China to keep US drone 01:25

Priebus, the sources said, was warned such a move could start trade wars, anger allies, and also hurt the new administration's effort to boost the rate of economic growth right out of the gate.
Role of Wilbur Ross
One of the sources said he viewed the idea as a trial balloon when first raised, and considered it dead on arrival given the strong reaction in the business community -- and the known opposition to such protectionist ideas among the GOP congressional leadership.
But this source voiced new alarm
Tuesday after being told by allies within the Trump transition that defending new tariffs was part of the confirmation "murder board" practice of Wilbur Ross, the President-elect's choice for commerce secretary.
At least one business community organization is worried enough about the prospect of the tariff it already has prepared talking points, obtained by CNN Wednesday night.
"This $100 billion tax on American consumers and industry would impose heavy costs on the US economy, particularly for the manufacturing sector and American workers, with highly negative political repercussions,"
according to the talking points. "Rather than using a trade policy sledgehammer that would inflict serious collateral damage, the Trump administration should use the scalpel of US trade remedy law to achieve its goals."
The talking points also claim the tariffs would lead to American job loss and result in a tax to consumers, both of which would harm the US economy.
Trump aides have signaled that Ross is likely to be a more influential player in trade negotiations than recent Commerce secretaries. Given that, the aides know his confirmation hearings are likely to include tough questioning -- from both Democrats and Republicans -- about Trump's trade-related campaign promises.
"The way it was cast to me was that (Trump) and Ross are all over it," said one source. "It is serious."
The second source was less certain about whether the tariff idea was serious or just part of a vigorous debate about policy options. But this source said the unpredictability of Trump and his team had the business interests nervous.
The business lobbying community is confident the GOP leadership would push back on any legislative effort to impose tariffs, which organizations like the Chamber of Commerce, the Business Roundtable, the National Association of Manufactures and others, including groups representing farmers, believe would lead to retaliation against US industries heavily dependent on exports.
But the sources aligned with those interests told CNN the conversation within the Trump transition includes using executive authority allowed under existing trade laws. Different trade laws enacted over the course of the past century allow the president to impose tariffs if he issues a determination the United States is being subjected to unfair trade practices or faces an economic or national security threat because of trade practices.
CNN's Ted Barrett contributed to this report.
The Unintended Consequences Of Trump's 35 Percent Import Tax Proposal
In a high-profile announcement in Indiana last week, Donald Trump and Mike Pence celebrated that air-conditioning and furnace manufacturing company, Carrier, would not be shipping 1,100 jobs to Mexico after all; an announcement carefully staged to provide a congratulatory photo-op to Team Trump for saving American jobs, even before the new administration takes office.
It's good news for those whose jobs were saved.
But Trump immediately received criticism for the deal, which offered tax breaks to save those jobs.
Even the likes of
Sarah Palin
, a Trump advocate, weighed in and said the arrangement was both picking winners and crony capitalism.
Perhaps as a counter-punch to this criticism, or perhaps because Trump realized the Carrier deal might set a dangerous precedent for other firms looking for a similar tax break to stay put,
the president elect took to Twitter
over the weekend to assert a much more stern position:
"The US is going to substantially reduce taxes and regulations on businesses, but any business that leaves our country for another country, fires its employees, builds a new factory or plant in the other country, and thinks it will sell its product back into the US without retribution or consequence, is WRONG! There will be a tax on our soon to be strong border of 35% for these companies wanting to sell their product…." back into the U.S., Trump tweeted.
Prior to this Twitter onslaught, many other firms probably thought it might be worth negotiating tax breaks with the president elect to get a piece of the action. And why not? Under the terms of the
Carrier deal
, it appears the state of Indiana — whose governor is still Mike Pence —
offered the company $7 million in tax breaks over 10 years in order to save what was actually 800 jobs.
Likely, more was promised besides and so it was tax incentives — rather than a big stick — that saved those jobs. Despite picking up some favorable reviews over the job retention, Trump probably decided he needed to turn up the heat to head off would-be copycat deals.
And a 35 percent tax on imported goods certainly would turn up the heat. It may also give pause to companies deciding where to produce their wares, as Trump intends. But if the tax is implemented, would it actually work? And what about the unintended consequences?
Incidentally,
before we dive into this, while Trump talks about a 35 percent tax at the border, he presumably means a 35 percent import tariff. During the election season, Trump made a big deal of the notion that America is being ripped off by other countries over trade arrangements.
For example, he claimed that while China slaps tariffs on U.S.-made products, the United States does not reciprocate on imports from China.
But as this Politifact analysis shows, it is a misleading notion. Both countries impose import tariffs on each other's products already. Though it's true that China does impose higher import tariffs than the U.S., it's a lot less asymmetric than Trump implies.
For example, using average rates for non-agricultural products, China levies a tariff of 5 percent on U.S.-made imports into their country, whereas the U.S. levies 2.9 percent on Chinese goods imported into America. China has higher tariffs for sure, but the difference is close to two percentage points, not a whole order of magnitude.
So, if all of a sudden the U.S. imposes a 35 percent tariff on all goods made in China — or anywhere else for that matter — America would be practically inviting a trade war.
This is perhaps why Trump's threat focuses on imports from U.S.-owned companies only, so as to avoid triggering international economic mayhem.
That being the case, what would be the effect of a 35 percent import tariff imposed only on goods imported from U.S.-owned companies?
By way of example, Apple iPhones would presumably be subject to a 35 percent tariff. But Samsung phones, made in China by a South Korea-based company, would suffer no such tariff.
The result? People would have to pay higher prices for their iPhones, but not for their Samsung phones — so fewer people would buy from Apple. This, to be sure, is no doubt the calculation behind the whole plan; a loss of sales would be the incentive for companies like Apple to bring jobs back to the U.S. But would they?
Likely not. The electronics industry has a highly Asia-centric supply chain that cannot be relocated in an instant. And even if that were to happen over time, doing so would not change the economic impact of lower wages in Asia versus the U.S.
Consequently, even if jobs eventually came to the U.S., the iPhone would still cost more when American wages are factored in. So, likely both in the short and the long term,
Trump's plan would reward foreign-owned companies over domestic ones.
Imagine the uproar from CEOs of American firms, who would quickly point out that the supposedly 'free' market is now instead skewed in favor of foreign firms.
Such tampering of the market is about as far away from conservative ideals as you could possibly imagine from a Republican president, and it would help neither American companies nor American consumers.
So, to correct the uneven playing field, what might happen instead?
The administration could impose a 35 percent tax on all imports, as
Newt Gingrich suggested over the weekend
. Set aside for a moment the likely trade war, what would be the domestic implications of this?
Under these conditions, in our example, Apple and Samsung would compete on equal footing, at least from the tariff perspective. But assuming the tariff is passed along to consumers, now all smartphones are subject to 35 percent inflation. How long will it take before Americans feel ripped off when that happens?
Furthermore, when such price hikes are applied to all kinds of imported consumer goods, general inflation would result. And by chain reaction, that would induce higher interest rates, which would induce lower investment as the cost of money rises. And of course, as mentioned before, the country would invite the likelihood of trade wars.
So, in short: Inflation, high interest rates, reduced investment and a trade war would be a quadruple detrimental whammy. Even if over time jobs came back to the U.S., at the very least there would be short-to-medium term price shocks subsequent to a general import tariff of 35 percent. Americans would feel, and would be, worse off.
Back, then, to the scenario Trump has promised — in which the tariff applies only to U.S.-owned companies' imports.
Another possible unintended consequence might be

a quickening of corporate flight

. We've already seen many companies acquire foreign competitors only to announce they will adopt the homeland of their newly acquired firm by effecting a "corporate inversion."
Under this boondoggle, an American company — by claiming to move its headquarters overseas — effectively invokes denial of its American citizenship to avoid paying taxes. Companies do this already to sidestep America's relatively high 35 percent rate of corporate tax (Europe's is 24 percent), so it's easy to suppose inversions might gain popularity as a tool to avoid paying the punitive new import tariff.
The argument would be: We're no longer a U.S. company, so we don't need to pay the import tariff. These inversions are egregious, of course, and the Obama administration has been urging Congress to regulate against them for some time; perhaps it would be a good thing if this actually moved the needle on this issue.
Another possible risk may also stem from a later point Trump tweeted out: "These companies are free to move between all 50 states, with no tax or tariff being charged."
In essence, this is fair as it allows states to compete with one another. But it might also be a signal that states which dismantle rules on organized labor — to drive down wages — won't raise eyebrows in the White house. What seems highly likely, in any case, is if jobs are forced back to the U.S., the downward wage pressure will be great as American companies try to compete globally.
So these are at least some of the risks, but the question is: Will Trump get his way?
Firstly, would he have any willing support from business leaders? On some level, the pain of the import tariff would be softened by
Trump's overall tax proposals
. He wants to reduce the corporate tax rate to 15 percent, and would support a "tax holiday" to allow American firms to repatriate accumulated overseas profits at 10 percent. This would free up capital and would, to some degree, offset the cost of bringing some jobs back to the U.S. for some companies.
But industrial leaders are likely scratching their heads to fully understand what is really at stake. And since Trump's tweets are not fully-fledged policy proposals, there are more questions than answers.
For example: Does Trump mean to slap the 35 percent tariff just on products currently made here that are subsequently moved offshore when he takes office? Or does he mean he would also apply the tariff on products already made overseas today? No details are available on this.
Also unclear is how the penalties would apply if a company "fires its employees" as his tweet promises. Does this mean the tariff applies when American workers are fired only when those specific jobs can be identified as moving overseas? Or does he mean the tax applies whenever a company lays off workers, period?
We would no doubt see the impact during the next recession when a company has to reduce its workforce to survive. Would a company already in financial distress be hit by a 35 percent tax on top of that, making its position still more precarious? Perhaps to maneuver around this clause, companies will fast-track their efforts toward automation to safeguard against a "firing tax." No workers to fire, no tax to pay. No American jobs either way!
A lot more thinking-through is needed. But in any case, while we wait for actual policy,
Trump may be setting up for fight with his own party.
Republicans in Congress are keen to stymie his import tariff plan. On Monday, House Majority Leader Kevin McCarthy, the No. 2 Republican in the the House,
said of Trump's threat
, "I don't want to get into some type of trade war." He went on to say he would not commit to bringing the tariff proposal to the House for a vote, adding: "I believe in the free market. I don't think government should be picking winners and losers."
Speaker of the House Paul Ryan
also indicated he has no intention of handing policy decisions to the president elect, previously saying about Trump's tax plans: "Congress is the one that writes these laws and puts them on the president's desk."
But since we know Trump doesn't have too much time for protocol, could he force his ideas through by executive order in the face of opposition? Worryingly, it seems he possibly could. There is precedent for executive order on such matters, Andrea Seabrook, a commentator on NPR, said on the broadcaster's
Marketplace podcast on Monday
.
One path available is to use the
Trading With The Enemy Act of 1917
, which allows for unlimited tariffs during times of war, Seabrook said. Apparently, former President Richard Nixon used this provision in 1971 based on the Korean War, which at the time was no longer being fought. It appears the law doesn't require the U.S. to be at war with the specific country in question, in order to impose tariffs. But if this doesn't fly, it's not Trump's only recourse.
He could use the International Emergency Economic Powers Act of 1972, which might be invoked on the basis that jobs leaving the U.S. constitute an economic emergency — another means of handing the authority to impose tariffs to the executive branch.
So, beware of laws that were passed to provide loopholes and exceptions during times of emergency! Perhaps Trump will try to use them.
Then again, possibly he is merely using his early-morning tweets, as is often the case, to build emotional momentum behind a general idea as opposed to actually promising to do what he says.
If the United States is to remain competitive in the international marketplace, and wants to avoid trade wars, we must at least hope it is the former.
Trump Threatens 35% Import Tax Which Would Be A Total Disaster
I know the new populist wing of the GOP likes the idea of threatening companies with an import tax, but Donald Trump's threat to do it is one that would have an impact on the US economy and not in a right way. The very people Trump directs this at, are the ones who will be hurt most by its implementation.
Here is what President-elect Trump said:
The U.S. is going to substantialy reduce taxes and regulations on businesses, but any business that leaves our country for another country,
fires its employees, builds a new factory or plant in the other country, and then thinks it will sell its product back into the U.S. ......
without retribution or consequence, is WRONG! There will be a tax on our soon to be strong border of 35% for these companies ......
wanting to sell their product, cars, A.C. units etc., back across the border. This tax will make leaving financially difficult, but.....